Studying Ayurveda and Yoga and Panchakarma recommendations

The following are some ideas of where to experience and study both Ayurveda and Yoga. They have been tried and tested first hand, or have been recommended by other people I trust. They offer authentic Ayurveda and Yoga as well as an enriching learning experience.
As a first port of call, do contact the UK Ayurvedic Practitioner's Association or info@apa.uk.com in regards to different courses on offer and qualifications required to practise Ayurveda in the UK.
Residential Panchakarma options in UK
Ayuseva clinic, Hove Brighton- founded by two inspirational practitioners, Sascha and Rebecca Kriese.
Essential Ayurveda, Lincolnshire, run by another inspiring husband and wife team, Andrew and Laura Shakeshaft.
North India
Dr Raju is Visiting Professor at the Maharishi Ayurveda Hospital in North Delhi. He is an expert is pulse reading and will provide the traditional Ayurvedic consultation experience whereby the doctor tells you what is wrong rather than you speaking about your symptoms. If you are in Delhi, a consultation with Dr Raju is a must. If you would like Panchakarma treatment, the Maharishi Ayurveda Hospital in Delhi offers authentic treatment.
Dr Chauhan is an inspirtion pioneer in bringing Ayurveda to as many people as possible globally. He founded Jiva Ayurveda which offers Panchakarma, consultations and courses in India and Europe. Courses include Ayurvedic Beauty, Cooking, Lifestyle Consultant, and Women's Health to name a few. They also produce many of reasonably priced Ayurvedic products which they are happy to export.  Jiva is based in Faridabad, a satellite town just South of Delhi. 
AyurPak is a wonderful Ayurvedic restaurant in Rishikesh run by a husband and wife team -eating their is like being part of the family. The menu includes such delights as Shatavari kheer, especially good for women, rose flavoured milk for cooling down Pitta types, and home-made amla jam with semolina pancakes. They also offer cooking lessons. No web-site but address is AyurPak, Tapovan, Laxman Jhula, Rishikesh. Vishal Gupta is on 9897 296 399.
South India
Rasovai offers trainings, courses, workshops, consultation, treatments and panchakarma. I completed their AyurBalance Massage training in December 2008 and greatly enjoyed the course. They also offer training in AyurYoga massage- a fusion of Ayurvedic massage and Yoga stretches. The centre is in North Goa, near the lovely beach Ashwem.
Dr Marda and his wife, Dr Suraj Marda run a small but thriving clinic in  a busy area of Pune. I spent one month living in the clinic and also had Panchakarma there.  Do book a consultation if you are in Pune, by emailing them on on  drgmarda@gmail.com or drsuraj_marda@yahoo.co.in.
Vaidyagrama offers an  Ayurvedic healing Village on the outskirts of Coimbature. The web-site is very helpful with many resources. You can have panchakarma here or do courses on Ayurveda from 3 days to 6 months. Highly recommended by Yoga teacher and well-being coach Rina Rolan.
PKM Hospital, Thaliparamba, Kerala, offer panchakarma/massage facilities. They have their own pharmacy and prepare everything themselves. The head physician is Gurukkal – he is traditionally trained and absolutely amazing! Recommended by Collette Bruwer
Ayushakti Ayurveda Clinic – Consultations and residential Panchakarma in Mumbai, India- an oasis in the heart of the city. Recommended by Rebecca & Sascha Kriese. Now also offering residential panchakarma stays in Goa, South India.
Ayurveda and Yoga Retreat, Coimbatore offers panchakarma, Ayurvedic food, yoga and meditation for about 70 Euros a day if you are sharing a room. The setting is beautiful, on top of a mountain, with views of tea plantations. Recommdened by Swedish practitioner, Sara Frykland.
USA
The Ayurvedic Institute (http://www.ayurveda.com/panchakarma) was set up by the inpsirational Dr Vasant Lad in 1984 and is recognized as one of the leading Ayurveda Schools and Ayurvedic Health Spas outside of India. They offer Panchakarma programmes as well as a range of educational courses in Albuquerque, New Mexico at the foot of the Sandia Mountains.
Beyond the workshops and weekends offered by AyurvedicYogi, you may also be interested in the followingorganisations offering training and courses in Ayurveda:
Ayurveda Pura Academy (www.ayurvedapura.com)
Tri-dosha  (www.tri-dosha.co.uk)
Ayurvedic Institute of Europe (www.ayurvedainstitute.org)
Ayurvedic Bodywork Consortium (indianheadmassage.org)
The European Institute of Vedic Studies (eivs-uk@atreya.com)
Ayurveda Retreat (www.ayurveda-retreat.co.uk)
Yoga Well (www.yogawell.co.uk)
Dr Ashok Kumar (www.drashokayurvedicclinic.com)
Recommended Distance Learning Courses
Pukka Herbs : Introduction to Ayurveda www.pukkaherbs.com
American Institute of Vedic Studies (www.vedanet.com)
Yoga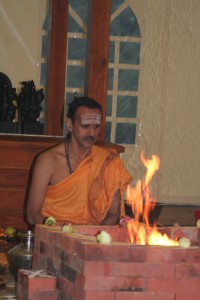 India is also a wonderful place to deepen your yoga practice. There are many centres and ashrams to explore (the Lonely Planet guide lists quite a few). As I am a Sivananda trained teacher, I have mainly visited the Sivananda Centres and Ashrams in North and South India (www.sivananda.org).These offer an authentic ashram experience and the Ashrams are open to anybody with a minimum stay of 3 nights.  They also run various courses as well as teacher training courses of one month's duration.  Be warned the morning wake up bell goes at 5.30am but this really is the best time to get up and meditate and do yoga! Accomodation may be quite basic, but the food is always delicous and the rates very affordable.
There are Centres in North and South Delhi, Chennai, Madurai and Trivandrum. There are three ashrams:
Uttarkashi – Himalayas on the banks of the Ganges
Neyyar Dam– Kerala's Western Ghats, also has an Ayurvedic centre
Madurai–  Tamil Nadu, South India