New Research on Yoga in Pregnancy and a new class starts soon!
April 30, 2014

I am very happy to be starting a new pregnancy yoga class on  Friday 9th May in the Old School, Batcombe (near Bruton). Expectant mums to be make wonderful yogis as they are already 'in the zone' and may be experiencing a very powerful connection with their unborn child. At the same time, pregnancy can be a very busy time preparing for the new arrival, or looking after older siblings. These sessions can provide quiet time each week to bond with your unborn baby and meet other pregnant women.  With my second baby, it was harder to get to such classes and I remember enjoying a long soak in the bath every evening to feel this connection.
In the same week I was approached by a lady who is 35 weeks pregnancy to set up this class, research was published showing that yoga is good for pregnant women. Having trained to teach pregnancy yoga with the inpsirational Uma Dinsmore-Tuley when I was pregnant with my first child, this is something many mothers to be intuitively know. But is great to have some research to back it up. Researchers at Newcastle and Manchester Universities found that pregnant women who attended a yoga class every week for 8 weeks experienced less anxiety than those receiving normal antenatal treatment. Indeed a single session of yoga was found to reduce self-reported anxiety by one third and stress hormone levels by 14%.
Prof John Aplin, one of the researchers involved has suggested yoga should be provided on the NHS for mums to be as a cheaper way of preventing complications later. Interesting times! Before such an enlightened day arrives, women in full time employment are entitled to paid time off work to attend yoga classes, which are covered by the category 'antenatal appointments and relaxation and parentcraft classes'. So exercise your right to this time off work.  For further details of the legal obligation of employers to pregnant workers, please click here.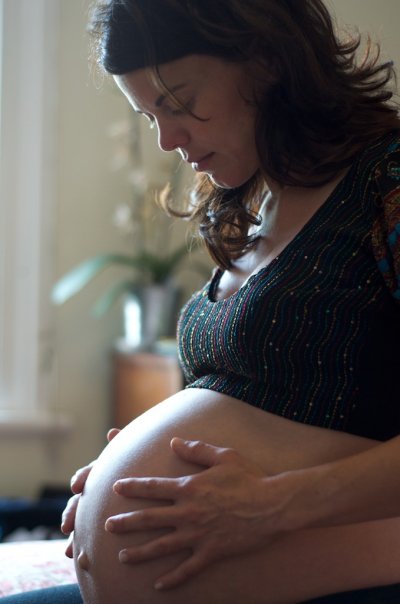 Beyond relieving stress and anxiety pregnancy yoga also:
keeps the body supple without straining
boosts energy

relaxes and promotes restful sleep

can be used to relieve pain in labour and childbirth
can relieve common minor ailments during pregnancy (e.g. swollen joints, heartburn, constipation)
can help the expectant mother to bond with the unborn baby through breathing and visualisation techniques
From the Ayurvedic perspective, the nine months of pregnancy should ideally be spent nourishing the unborn baby so as to imprint nice Samskara (psychological conditioning) into the Chitta-Vriti ('hard disk drive') of the new-comer.  A pregnant woman is compared with a vessel filled with oil right up to the brim, and should be handled as such! It is recommended to feed the mother's body, mind and soul with good food such as eating Sattvic foods (e.g., avoiding spices), creating a peaceful home environment, avoiding watching violence on TV and and engaging in peaceful activities (walking in nature, reading, listening to soothing music, reciting Mantras). Scientific research substantiates the fact that foetus is disturbed in noisy places. I will be running an Ayurvedic workshop on Pregnancy care soon.
In the meantime, this new class offers a comprehensive system for learning and using yoga throughout pregnancy, labour, birth and beyond suited to all stages of pregnancy, from 12 – 42 weeks. It is recommended to begin classes in the third month of pregnancy and continuing throughout in order to gain maximum benefit, but it is possible to begin at any point in your pregnancy. You will learn simple but effective breath and relaxation techniques, yoga postures to manage common physical ailments, and visualisation practices to build confidence and assist in easeful birth. Each session begins with a supportive sharing time to assess and evaluate the changing physical and emotional needs of each woman.
These 75 minute sessions are bookable in blocks of 5 for £45 or on a drop in basis as your due date approaches! Please get in touch for more information on 07753 678 582 or 01749 850 085.
Filed in ayurveda and pregnancy, ayurvedic pregnancy care, pregnancy yoga, pregnancy yoga in somerset